"...A terrific writer..." —Richard Marek, editor of The Silence of the Lambs and bestselling author
"A sharp, entertaining zombie epic that gleefully defies expectations." —Kirkus Reviews
"Fast-paced and never a dull moment...a meaty slice of a unique zombie thriller..." —Sara Tantlinger, Bram Stoker Award-winning author of The Devil's Dreamland
"...this genre-bending mystery keeps its audience and characters guessing, keeping the suspense alive throughout..." —BookLife Reviews
"As the car spins out of control and seconds before it veers off the road, as tires screech and high beams slice the black night, as he comes at me from the driver's seat, I grab his head with both hands, his face green by the faint light of the dashboard, his milky eyes glowing inches away from mine, his mouth and teeth reaching for my neck, and I manage to raise my knee between the two of us and force him back into the driver's seat. I jump him and push him to the floor, trying to grab hold of the wheel as inertia pulls my body away from it. His arms break off under mine, puffing a cloud of dust. I look into his eyes and ask him to stop, to please stop. But his teeth do sink in. And I do feel the burn, and I do see his mouth pull away with my skin and flesh and blood gushing away, and I see black. And it doesn't feel bad at all. Or good. It just is. And I see it. Or, I understand. Or, I remember: The world, overrun with us, the dead; the rise and the fall of the zombie Slayers; the ancient cities turned to forests and jungles and deserts, burning under a red sun, so swollen and so close to the earth; the giant, cool underground cities, unhuman ant colonies, bursting with the movement of dead bodies. I taste the pungent tang of embalming fluid; I see corpses turning on corpses, in rage and in pity; and I see the last three human shapes, standing alone on a graveyard planet. I see more things. I see kaleidoscope eyes, and the untimely death on three-hundred twelve. And just before we hit the oak tree, Tommy. I see Tommy. And all the Tommys in the world."
Out now!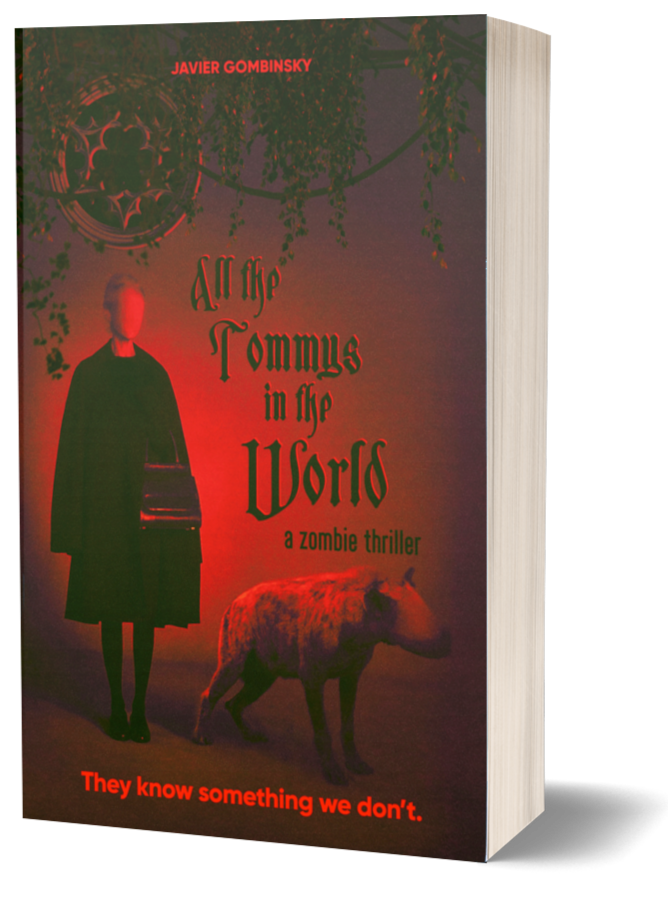 They know something we don't.
For horror Youtubers Lilith and Nate, zombie movies are escapist fantasies. So when a real zombie uprising in the streets of New Southport is quickly thwarted, they know those familiar-looking ghouls are hiding something. They should know. Born with a weak heart in the funeral town of Leatelranch, built around the largest cemetery in the world, Lilith's parents raised her with zombie stories to keep her from learning the truth about what happens inside the cemetery walls. As for Nathan, the caretaker's son... he has his reasons to be so cowardly. So when they get outsmarted by seemingly droning ghouls and are forced to split up, the uncanny coincidences are undeniable. And as things start to look more and more like Lilith's apocalyptic visions, and as a darker threat lurks, it'll be up to them to piece the puzzle before everyone they love faces a fate worse than becoming a zombie.
Can they be stopped? Are they just playing dead? Do they have a plan?
They know something we don't. And whatever it is, they hate us for it.
About the author
Javier Gombinsky was born in Buenos Aires, Argentina, in the neighborhood of Chacarita, the real-life inspiration for the town of Leatelranch in his novel All the Tommys in the World.
His love of horror started with Argentinian children's books by Elsa Bornemann. Then came The Twilight Zone, Tales from the Crypt, Freddy Krueger, and finally zombies with the greatest zombie movie ever made: Return of the Living Dead. Since then, he's been consuming all things horror and zombies, and keeping a list in the back of his mind about all the things he wanted to happen, but didn't. He's now in the business of turning that into books.
He lives in Amsterdam with his wife.
Newsletter
Sign up to be the first to hear about the book, including updates, samples, and more.
---
© 2021 Pigfarm Press. All rights reserved.

Credits:
On the road Photo by Sebastian Pociecha on Unsplash
Cloudy sky Photo by Anandu Vinod on Unsplash